When will your $3,600 child tax credit check arrive — and how often?
If you qualify for the 2021 child tax credit, you could receive multiple payments. Will they be monthly? When will the first check arrive? Here's what we know so far.
The new stimulus checks are being delivered at a steady pace. New information for Social Security beneficiaries heralds another wave of payments for this group, and for others waiting for their third stimulus checks to arrive through paper checks and EIP cards (track your payment here). But the $1,400 stimulus payments are only one way qualified families will receive more money this year. Families with children under 17 may actually receive more than a stimulus check if they qualify for the 2021 child tax credit, also called the CTC.
Detailed in the $1.9 trillion stimulus bill signed earlier in March, the CTC expansion allows eligible parents to claim up to $3,600 for each child dependent. That's a raise of up to $1,600 over the $2,000 parents could claim last year for each dependent aged 17 or younger on the parents' 2020 tax returns.
But with the IRS now processing millions of stimulus checks and hundreds of millions of tax returns between now and the new May 17 Tax Day deadline, what does that mean for the child tax credit timeline? When would the first CTC payment arrive, and how often would you get them? Could they become permanent? We'll explain that and more below. Meanwhile, here's seven tax credits for 2021, more information about unemployment benefits, and what we know so far about whether a fourth stimulus check could happen. This story was recently updated.
When will the 2021 Child Tax Credit payments begin arriving?
We know a general timeline, but the specifics are yet to be pinned down. The American Rescue Plan stipulates that the CTC payments will start to arrive in July. However, a specific date hasn't been released for when the payments will come. The IRS will make additional information about the expanded child tax credit available "as soon as possible," the agency said in a statement March 12.
How often will the CTC checks be distributed?
The child tax credit will be paid out "periodically," according to the text of the stimulus bill, from July through December. However, the IRS hasn't shared how often it will be able to get the checks out.
Monthly delivery has been a goal, and the initial language used in earlier drafts of the stimulus bill. However, the language changed to "periodically," perhaps in part because of the extra burden placed on the IRS to also distribute tax returns and stimulus checks. In other words, some may have felt a monthly delivery cycle was too ambitious or unrealistic.
"I think it might be a challenge to get into the monthly right out of the box," IRS Commissioner Charles Rettig said when asked about the timeline.
The amount you'd receive would be half of what you're owed for the year, under the new stimulus bill, and you'll receive the other half of the payment with your 2021 tax refund.
If paid out monthly, the payments would break down to up to $300 per month for each qualifying child age 5 and under, and up to $250 per month for each child between the ages of 6 and 17. Note that this amount phases out for those with higher incomes — for single people earning more than $75,000 per year, heads of household earning more than $112,500 per year and married couples earning more than $150,000 a year.
How will I be paid the CTC: Direct deposit, mail, some other way?
When the payments do start arriving, the Treasury and IRS could very well send out the payments the same way they do the stimulus checks, Joanna Powell, managing director and certified financial planner at CBIZ, told CNET.
It hasn't been confirmed by the IRS yet, but if the agency does use the same method as stimulus checks, here's how it would work: If you have direct deposit on file with the IRS, that's how you'll get your payment. If not, you'll receive your money as a paper check. It isn't clear if Social Security beneficiaries, like people in SSI, SSDI and veterans programs, would receive their CTC through their Direct Express card, the same way millions could get their third stimulus check.
Do I have to do anything to get the child tax credit money? What if I already filed my 2020 taxes?
Taxpayers shouldn't file an amended return related to the new legislation and shouldn't take any other "unnecessary steps," the IRS said March 12. Rettig said payments will be automatic for those who file their 2020 tax returns by May 17, the new tax deadline.
However, nonfilers will need to file a 2020 tax return to get the credit, even if they don't usually submit tax returns. This will inform the IRS of how many dependents are in the household who would count toward the CTC benefits.
When will the IRS portal for fixing errors be available?
The IRS said it will launch an online portal by July 1, Rettig said, but the IRS won't have the resources to build this until after tax filing season ends. Once the CTC portal is available, recipients can log in to update their information if their circumstances have changed. For example, if you have a child in 2021, the IRS wouldn't have that information on file yet, so updating those details could help you get a larger tax credit payout.
Will I have to return money to the IRS if I get more money than I should?
The CTC isn't as flexible as the stimulus check rules. If you receive more money than you should have, you will have to pay it back. Powell explained that when you file your 2021 tax return (in 2022), if your tax situation isn't what the IRS has in its system, and you weren't entitled to as much as you received, you'll have to give the overpayment back.
To avoid this tax inconvenience, make sure all of your information is updated before the payments start arriving. Powell estimates the portal will be open ahead of time so you can make any necessary adjustments.
Could I get all my CTC money as a lump sum instead of in periodic payments?
Absolutely, but not this year. If you thought you could cash in on all the CTC money in July, that's not the case. Instead, you can opt out of getting the periodic advance payments and receive a lump sum in spring 2022 as a credit when you file your taxes. You'll be able to use the online portal to opt out. Again, you wouldn't receive any money until 2022.
For more information, here are five things you should know about the $3,600 child tax credit for 2021. Plus, here's how to track your tax refund and your $1,400 stimulus check.
What happens after the CTC payments end in December?
The final payment of the child tax credit is scheduled to end by Dec. 31, 2021. President Joe Biden, however, wants to make the higher payments permanent, White House Press Secretary Jen Psaki said on Tuesday: "We're having those discussions with Congress."
What if your stimulus check doesn't match your calculated estimate?
There are a number of reasons your stimulus check might be smaller than you were expecting — or nonexistent. Maybe you receive SSDI or SSI benefits or other federal benefits, which have not been sent out yet. Or perhaps your payment was based on your 2019 taxes instead of 2020. Checks that are missing altogether can be tracked using a few different tools, and missing money can be claimed in a few different ways. Read our guide to stimulus check problems for solutions to these and other issues.
3 important dependent eligibility guidelines to remember
There are three new rules for the third stimulus check that affect you if you have dependents.
Each dependent counts for $1,400.
Dependents are no longer restricted by age. College students, adult children with disabilities and older adult relatives will now count toward $1,400 each.
Unlike the first two checks, you can't receive any money if you exceed the upper income limit, even if you have dependents.
An extreme example of the last one: a single parent of four who makes $120,000 won't qualify, where a single parent with four dependents who makes $119,000 will still get some amount of money. The amended bill also includes families with mixed citizenship status; that is, where at least one family member is a US citizen.
Expanding qualifications to dependents of any age makes approximately 13.5 million more adult dependents count toward their household total, according to The People's Policy Project.
Stimulus check timeline update: What to know about payment dates, IRS delivery scorecard
How many stimulus checks has the IRS delivered? How many more are yet to come, who will get them and how? Here's what we know and what happens if you're still waiting for your full or partial $1,400 payment.
Stimulus check delivery is far from over. Though the IRS says it sent 127 million stimulus checks, roughly 30 million more Americans could expect to see a stimulus check for up to $1,400 per person in their household in the coming days and weeks — including Social Security recipients like SSI, SSDI and veteran beneficiaries of federal programs. (Here's how to track the payments.)
That could bring the total to 157 million disbursements, with millions of additional payments going to qualified recipients in the next batch as paper checks or EIP debit cards, now that direct deposits stopped after March 24. So when will your money arrive, and what happens if there's a problem with your stimulus check? (Quick note: The IRS doesn't want to hear your stimulus woes.)
Adding to the confusion is that the US Postal Service is currently experiencing delays, which could detain your mailed payment. Many others may not get a full payment for months if the IRS uses their 2019 taxes to calculate their share and owes them the rest of their check based on their changed AGI or new dependents, like a 2020 baby (more about 2021 child tax credit qualifications  here). We'll go over these scenarios below. In addition, here's what to know so far about a fourth stimulus check. This story has been updated with new information.
Stimulus check delivery status scorecard and timeline
The IRS and Treasury have distributed 127 million third stimulus payments to date, and are now prepping tens of millions more. People who didn't receive a direct deposit by March 24 will receive a stimulus payment in the mail as a paper check or EIP debit card. With mail delays continuing, though, it isn't clear how long it'll take from the time the IRS or Treasury sends your payment to the date you'll receive it.
Though up to 30 million SSI and SSDI recipients are still waiting on a delivery date for their payments, we now have a lot more detail about the payment particulars, especially through Direct Express (more below). If your life circumstances changed between your second check and now, any complications could hold up your payment. If you moved recently, tell the IRS and USPS.
Here's how the checks have been sent so far:
STIMULUS CHECK SCORECARD

How to track your stimulus check status with the IRS and USPS
The IRS updates its Get My Payment tracker tool for stimulus checks daily. This online app shows you the status of your payment, including when a check is scheduled for delivery. The IRS portal can also flag if there's a problem with your payment that you may need to address, but it doesn't tell you the amount you'll receive. You can use a free tool from the USPS to track your mailed stimulus payment.
Social security, SSI, SSDI, veterans, other federal beneficiaries
After a weeks long holdup, the IRS can now prep payments for SSDI and SSI recipients, veterans and retired railroad workers, many of whom automatically qualify for the third check. A number of people are expected to receive money through a Direct Express card (PDF) if this is how they normally get benefits, and if they didn't file taxes in 2019 or 2020.
However, some in this subset of nonfilers could receive an automatic payment sooner if they got a previous check by using the IRS' Non-Filers tool, which is now closed. In that case, you could get your payment in the current wave. Here's our complete guide to stimulus checks for people receiving Social Security benefits.
STIMULUS CHECK DELIVERY START AND END DATES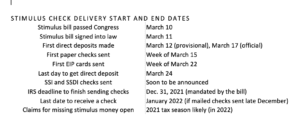 What could hold back or break up delivery of your stimulus payment
You receive SSDI or SSI benefits or other federal benefits, which have not been sent out yet.
Your stimulus check was deposited into a closed or temporary bank account.
You moved and the IRS doesn't have your correct mailing address to send a check.
Your check may get delayed in the mail. (Track it.)
Your payment may be garnished by private debt collectors.
You may not receive money for all of your dependents, like a new baby or older adult.
You may be a nonfiler who needs to file a 2020 tax return to claim dependents.
The IRS based your third stimulus check on 2019 taxes and you're owed money for your 2020 AGI or dependents.
There was a calculation error and you need to claim an adjustment at a later date.
The IRS sent a letter confirming it sent your stimulus payment, but the money never arrives.
Here's more information on problems you might encounter with your stimulus check.
What do you do if there's a problem with your check?
Sorry, but the IRS really doesn't want you to call if you have any issue with the delivery or amount of your stimulus check. So what should you do instead? We have a guide that walks you through how to report stimulus check problems, including checks that never arrive (try filing a payment trace), direct deposit payments that go to the wrong account and more.
Why your 2019 tax return could add a wrinkle to your payment
Taxes are now due May 17. So how will the IRS figure out how much it owes you? It will calculate your total (you can also do that here) based on the most recent tax filing it's processed at the time it's ready to tabulate your check.
If you filed your 2020 taxes early and you know your tax return was already processed, your total will likely be based on your 2020 adjusted gross income, not on your 2019 AGI. That presents complications if the difference between the two years disqualifies you from getting a third stimulus check.
On the flip side, if the IRS uses your 2019 taxes and you're owed more money based on your 2020 AGI and dependents, you'll need to claim the difference at a later date. (Learn more about some of the stimulus check exceptions and catches here.)
You'll have to claim any missing money later, but no word yet on how or when
There are several reasons the IRS may owe you stimulus money after it sends out the third round of checks. Maybe the agency processed your 2019 tax return instead of 2020 and there was a discrepancy. Or maybe you had a baby in 2020that you still need to claim as a dependent. Maybe a clerical error accidentally left out a new dependent. Perhaps your payment never arrived or was accidentally garnished.
Whatever the reason, the IRS may provide a way to file for missing stimulus money before the Dec. 31 deadline. If not, you might have to wait a year to claim it, when you file your 2021 taxes in 2022 (even if you're a nonfiler who isn't typically required to file taxes).
Stimulus checks could legally arrive through December
Although the IRS and Treasury are sending stimulus checks now, the agencies have until Dec. 31, 2021, to complete distributing the third payments. That's good news in the sense they aren't facing a compressed deadline to send out all the checks, as they did with the second stimulus check in December, which only provided them a 17-day window to get the payments out.
On the other hand, the nearly nine-month total delivery window also means some people may find themselves waiting, for a variety of reasons. We'll have to wait and see how the IRS deals with any fringe issues that arise, such as the need to claim missing money.
If you're in one of the groups below, there's more for you to know
Stimulus checks aren't necessarily a one-size-fits-all situation. Here are additional guides for:
Households with dependents, or people trying to understand if they'd receive their own check
People who receive SSI or SSDI
Older adults, people who are retired and veterans
Tax nonfilers, such as veterans
Families with child support situations
Families with mixed-status citizenship
And here's everything you need to know about the third stimulus check, how to calculate your stimulus total and every way the stimulus bill can bring you more money.
What the IRS Get My Payment tool will tell you
The IRS tracking tool, called Get My Payment, is designed to share the status of your third stimulus check, which was approved as part of President Joe Biden's $1.9 trillion relief package. To get the status of your third check, enter your Social Security number, date of birth, street address and ZIP code. The tool will then display a message with information about your payment.
The tool will tell you:
Whether the money was sent.
The payment method (direct deposit or in the mail).
The date your stimulus money was issued.
If it can't yet determine your status — more below on error messages.